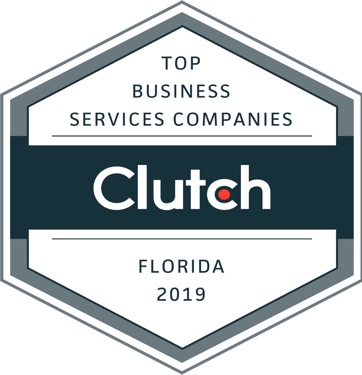 At Translation Outlet, we have a very simple mission; to help our clients in any way possible. We accomplish our mission by creating a way for our client's to reach a market they may have not been able to reach without our help. With AI technology increasing with each passing year, it may seem like there is a decreasing need for human translation services. Rather, the need for human translation has never been greater. Google translate and other services simply do not account for the acute cultural signals from each language, something a human can only do.
At Translation Outlet, we always add a human touch to the projects our clients give us to ensure the correct message is being translated, and we always make sure to include the cultural nuances that make their company stand out from others on the market. Clutch has recently released rankings of the top B2B companies in each of the 50 states. We are honored to be featured in Florida under the IT and Business Services category! We've consistently ranked on Clutch as one of the best translation services providers in Florida, and are incredibly proud our expertise and hard work has led to this recent recognition!
"This award is something we value because it helps our company be more competitive in a very competitive industry" – CEO and Founder, Translation Outlet
Headquartered in Washington D.C, Clutch is an established ratings and reviews firm whose mission is to connect businesses seeking solutions to complex problems with the best possible provider. Clutch has an in-depth rating and review process that truly separates Clutch from the competition. The process starts with market research and analysis by Clutch analysts and most importantly, concludes with Clutch analysts performing interviews with verified clients from the company. We are appreciative of Clutch's comprehensive vetting process. Our clients left kind comments on our profile, but there were a few that were especially reflective of our work, which we have included below:
"Translation Outlet's work has allowed our company to reach a broader audience." – Head of Marketing, Aivo
"The text sounded natural and friendly with a professional tone." – Corporate Communication Manager, JEMSE
The Manifest is similar to Clutch, offering potential clients a quick view of the company's size, location, and services offered. Additionally, The Manifest offers potential clients the opportunity to use a How-To Guide to aid potential clients in employing the services of a 3rd party business. Check us out on The Manifest, ranked 8th as one of the site's top translation services providers on the site.
We would also like to take this time to acknowledge our recognition by Clutch's associate sites, The Manifest and Visual Objects. We at Translation Outlet are excited by the reviews our clients left on Clutch.
We look forward to continuing to provide our unique translations to each and every client who seeks out our services. We would like to thank Clutch and our clients for giving us this feedback and appreciate all the warm sentiments our clients have given us on our profile. Feel free to drop us a line or give us a call to get more information today!
What type of document do you need to translate?
Translation Outlet offers you a simple way to have your documents translated. Submit and customize your project request through our website and receive your translation according to the quality, timeline and budget you want.
Order now